The Truth About Inbound Links and Website Design
Can any inbound links hurt your ranking?
Many people in the Search Engine Optimization (SEO) world have asked the question if any inbound links could potentially hurt your ranking. The answer is no, it can't hurt your search ranking.
If this were the case and inbound links could hurt your ranking, all of your competitors would just simply use link farms to link to your site. Google will not penalize your website for any inbound linking because of potential scenarios as such where it is strictly out of your control.
With that being said, you can however be penalized for external linking illegitimately. This can be avoided by simply not linking to a website where you have suspicions of it being illegitimate or unethical. Getting caught doing this could ruin your SEO strategy and should be avoided no matter what. It is extremely important to check that all of your external links are linking to trusted sites.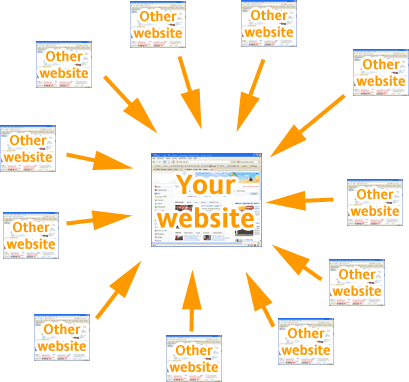 Website Design
Many businesses simply do not take full advantage of having a website and the creation and purpose that comes with it. It actually turns into a missed opportunity for e-businesses. You don't want to give off the impression where if you don't impress people with your website then you certainly won't impress with your product or service.
Your website is a reflection of your business. You typically have 5 seconds to grab a readers' attention, and if your site's design isn't appealing enough you risk losing that reader for good. A website that lacks professionalism or doesn't look appealing can scare people away or leave them thinking your products or services aren't of very good standard. Having an appealing site can help with inbound links, too.
However, you also don't want to go overboard with the design, either. Make sure you're not risking having your website take too long to load by including too many high costing graphics. Although it might look great, it risks a slow load time and could result in your business seeming unreliable and ultimately cost you a customer.
One of the most important things to consider when creating your website is the content you roll out. Quality content written with relativity, passion and targeted to your customer will set your business apart from the competition. People will come across your webpage because they're looking for something in particular and if they're not able to find that information they will be gone faster than when they found it. Having quality content will help keep readers on your site.
Make sure that when people reach your site they know exactly what you're offering as soon as they hit your homepage. It's frustrating when someone is looking for something specific but can't actually figure out what you're selling because it's too hard to find. If they can't find it almost instantly, they surely won't be spending much time looking around for it.
There are plenty of articles on the Internet that outline design mistakes on websites, however it's quite simple. Clear and simple websites that offer quality information are the most successful kinds. Take a step back and evaluate your site to see if you're achieving maximum potential with it. If you believe it could be better but aren't too sure how to do it, spending money on having somebody improve it for you is a better investment than allocating dollars to advertising and promoting a website that isn't going to result in more customers.
If you choose to go with a website designer or template provider, take into consideration the above factors and ask questions. Ensuring that your website is done correctly the first time will save you valuable time and money while the earlier it is done the quicker you are able to start bringing in new customers.
One of the big mistakes a lot of people tend to make when first making their site is putting the name of their website into the Anchor Text. This results in the waste of a good link, unless your website contains your keywords and since Google puts a high emphasis on Anchor Texts, you should definitely always include your keywords.
Another common mistake people make is that they try to jam all of their keywords into their Anchor Text. This is a problem because Google weighs each of your keywords in Anchor Text, meaning that if there are a lot of words that are used just to fill content they will actually weaken your target words.
Every year, eCommerce website see $1.1-$1.3 billion losses because customers leave their website due to slow load times, according to Forrester Research and Gartner Group. It's pretty straightforward that if your page is taking a long time to load people aren't going to wait around. The attention span of readers is getting shorter and if you can't capture their attention in the first few seconds because your page won't show up, then you can't expect them to become customers.
It's also important that your site includes META tags on each page's HTML. These tags will help search engines find relevant keywords that are tailored to a certain website, and with 80% of website traffic coming from the eight big search engines, this is crucial. Make a plan to fully optimize your website before beginning (a blueprint if you will) as this will save you time down the road.
Next, make sure you're aware of what colours you're choosing for your text and backgrounds. The simpler it is, the better. A background with too much happening in it can be distracting and make the text difficult to read. Keep your website organized, clean and consistent. Keep your page backgrounds, colours and text all consistent as this will give it more of a professional look. It's a good idea to choose colours that reflect the type of effect you're aiming for.
Ensuring your site has simple and easy-to-use navigation is another must. Navigation links are generally in one place at the top, left, right or bottom of a webpage and use tables to properly align them. Don't use graphic links if you're going to have more than six links as it has the potential to look clustered and will also increase your page's load time.
If you or your designer opt to use frames, make sure they're used correctly as it can give off a very unprofessional look if not done properly. A good option is to offer your readers the choice of using frames or no frames when visiting your site. Having navigational links on all pages – not just the home page – is crucial to creating ease for visitors to navigate. Also, integrate your logo on every page and make sure your visitors don't have to scroll left to right to see your page (it's annoying!).
One good idea is to give your visitors a freebie such as an e-book. If you choose to create an e-book, ensure that is complements your site and that it has value to it that readers will find interesting. For example, if you're passionate about selling you could create an e-book that offers readers tips and advice on sales. Offering your readers something where they can get value out of it for free will go a long way with them.
Too many companies today are letting the opportunity of having a quality, well-designed website slip away. Your website should be at the top of your priorities. You can be as creative as you want and include whatever you want and can help increase the quality of inbound links. Don't let an opportunity like this slip away and be the reason your business doesn't experience success!
Chris Johnstone is the owner of Connection Inc. His team at Connection Inc. will fill your calendar with qualified sales appointments. We do this using our 4 proprietary marketing systems that we have developed over the last 15 years.   1 We communicate with your past client to immediately, and over time bring in more repeat business, referrals and 5-star reviews on your businesses Google profile. 2 We help you build a targeted list of qualified referral partners, craft an offer that converts them and then make the calls and run the CRM systems that fill your calendar for you. 3 We generate the highest quality inbound leads by using A.I. to rank your business on the map placement on the front page of Google and running the systems that make you the best rated. You get inbound calls that close. 4 We help you install systems that turn every new application and customer that we generate for you into a referral opportunity that doubles your business by turning every opportunity into at least one more deal through referrals. Click Here To Learn How We Can Help You Grow Your Business.
About us and this blog
We are a digital marketing company with a focus on helping our customers achieve great results across several key areas.
Request a free
one-on-one marketing consultation with our team of digital marketing experts
Ready to discover the best AI tools of 2023? Dive into our…
[easy-share counters=1 counter_pos="inside" native="no" hide_total="yes" fullwidth="yes" fullwidth_fix="100"]