How To Target Local Customers For Your Business
How To Target Local Customers In Your Market
Per an article on WordStream, 72% of consumers that do a local search will visit a store within 5 miles.
Whether you are a purely online business or a local storefront, ensuring your business is easily found on search engines is a must when it comes to your local marketing strategy.
After all, you don't want a quality customer to buy from a competitor simply because your business failed to properly optimize for online searches, right?
Local customers are the highest quality of customers you can have. They are the ones who have the greatest intent to purchase because your location is extremely convenient for them.
You can picture it this way: a local person is much more likely to buy from a business in his own city as opposed to a business that's located one hour away.
Ensuring that your business is maximizing its potential to be found through search engines is critical when it comes to your local marketing strategy.
There are a few ways that you can target local customers in your market.
1. Create and optimize a Google My Business page
This is an absolute must. If your business doesn't already have a Google My Business page, create one immediately!
With more than 1.2 trillion searches being conducted on Google each year, it's not hard to see why a GMB page (among other reasons) should be a priority.
A GMB page is free to create and will also ensure that your business is listed in Google Maps. Showing up in Google Maps is something that will make it super easy for local customers to find you, especially on mobile.
On A GMB page you'll be able to list your business' address, phone number and store hours as well as upload videos and images.
We show you how to properly setup and optimize your GMB page in a previous blog post.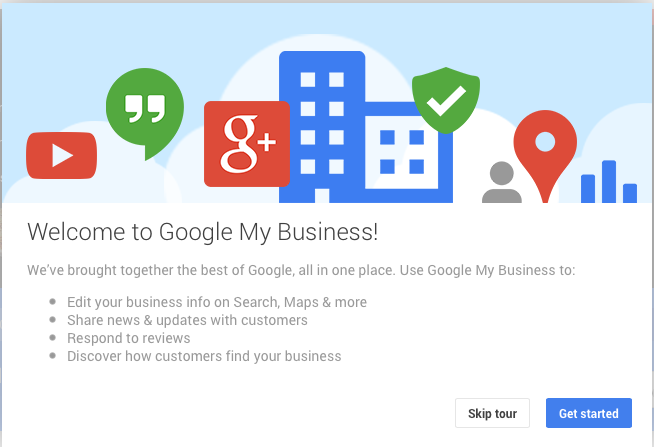 2. Create content that use specific, localized keywords
This one may seem obvious to some, but it's another factor that's important if you want to target local customers.
Google is constantly crawling millions of websites every second. While crawling these sites, Google is taking the information in the content and sorting it based on how relevant it is to certain keywords.
In a nutshell, it's important to have good, quality content with keywords that are targeted for a specific geographic location. This way, Google will be much more likely to rank your business higher when people search for the keyword.
For example, if we were a plumber in Winnipeg we would obviously create content on our site that related to plumbing. But our keywords wouldn't just be "plumber" or "residential plumber".
To target customers in our area, keywords such as "Winnipeg plumber", "residential plumber Winnipeg" and "Winnipeg commercial plumber" would be terms that we would consider using.
However, it's not a good idea to simply pick out some keywords and roll with them without doing some keyword research. If you do research on potential keywords that you have identified, it can be helpful in determining which keywords are more likely to succeed than others. Some keywords may be so competitive that it would be unrealistic to think your business could achieve a top-ranking in.
Check out this blog post on how to do keyword research for your local area and find which keywords people are looking for.
3. Appear in local directories
A relatively easy way to get customers to find you is to have your business listed in local directories.
The clear majority of cities allow you to list your business in the city's business directory. This lets customers in your area easily find you when they're looking for your product or service.
This is a nice and easy way for you have your business listed without having to do a whole lot of work.
4. Localize your social media
Social media and its usage is only growing. This is why it's important that you not only keep a strong social media game but ensure your pages are full of local content as well.
On just about every social media website, whether it's Facebook, Twitter, Instagram or Tumblr, you can list a location, website and contact information. This is another easy way to improve your reach to local customers.
First, listing your business name, address, contact info and link to your website are great for search engines. It's another link that's linking to your site, and assuming you're not using a shady, no-name social media website, will help with your rankings.
Second, using local tags in your posts will allow people locally to find your business. For example, if you sent out a tweet with the hashtag #Nashville or #MusicCity if you are a Nashville-based business, it would allow anyone who clicks on those hashtags to find your post.
Social media sites also have filters that let you display the city or town in which you are posting from. Again, anyone clicking on these locations will be able to easily find your business. This is a great way to target local customers.
5. Reviews, Reviews, Reviews!
This is largely tied with your Google My Business page, but having online reviews is so important we can't ignore it.
Reviews have such a strong pull with consumers in today's market. Having them will both boost your ranking and bring you more customers.
In fact, 84% of people trust online reviews as much as they would a personal recommendation. Additionally, 74% of consumers say that positive reviews make them trust a local business more than they did before.
You might think that it's difficult to get people to leave you reviews. It's not as hard as you may think, though! 7 out of 10 customers are going to leave a review about a business if they're asked to!
To find out how you can generate more positive online reviews, check out our previous post.
It should be a must for your business to target local customers. After all, these are your business' highest quality of customers who have the greatest intent to purchase. The best part is that they're located directly in front of you. These 5 tips can help your business create a strategy that is focused on targeting locals.
If you want to have us review your website and give you a free 30-minute consultation where we show you how to generate more local customers from your website, click here.
A thriving Canadian entrepreneur. A loving father and husband. A blossoming philanthropist. The CEO of an innovative Digital Marketing Agency. Johnstone has mastered the art of digital marketing on numerous platforms (Facebook, Google, YouTube, Instagram - to name a few) which has given him the unique ability to assist hundreds of loan officers, realtors, lawyers, financial planners, and insurance agents with growing their businesses online. He continues to grow his skills and hone his craft and is ready to bring you up to speed on the latest and greatest in the digital marketing world!
About us and this blog
We are a digital marketing company with a focus on helping our customers achieve great results across several key areas.
Request a free
one-on-one marketing consultation with our team of digital marketing experts
Subscribe to our newsletter!
As the host of the Loan Officer Wealth Podcast, I had the…
[easy-share counters=1 counter_pos="inside" native="no" hide_total="yes" fullwidth="yes" fullwidth_fix="100"]